You are browsing Curved Stair Lift in the Curved Stairlifts category
Curved Stair Lift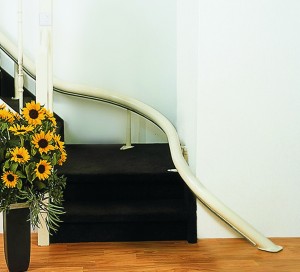 Curved stair lifts give you the freedom you once had, and no matter how awkward, narrow or steep your stair case may be our engineers will always find a solution. Our stairlift specifiers adore challenging staircases and our engineers are highly trained and will have your stairlift fitted in no time.
Most people that require a stairlift will assume that they require a straight stairlift because there may only be a bend/turn at the top. This is not the case. You require a straight stair lift if your staircase goes straight up, as soon as there is any slight bend/curve/turn you will require a curved stairlift.
Let our trained staff do the worrying and designing, all you need to do is call up, receive a free stair assessment and wait for it to be installed!
Please do not hesitate to call us on 0800 3265627, email us at sales@ukstairliftsdirect.com or book your free stair assessment on the form to the left.
Book your Free Stair Assessment today! Call us on 0800 002 9915 or email us at sales@ukstairliftsdirect.com or fill out our contact form on the left hand side.